April is Celebrate Diversity Month,
started in 2004 to recognize and honor the diversity surrounding us all.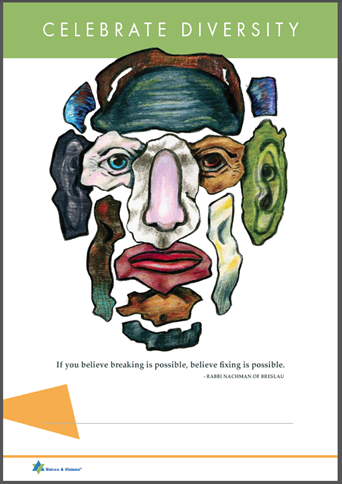 "If you believe breaking is possible, believe fixing is possible."
- Rabbi Nachman of Breslau
How would YOU describe diversity using 6 words?
It's easy to make your voice heard!
Send your responses to:
or reply via Facebook, Instagram or Twitter.
There are plenty of ways to celebrate diversity in everyday situations.
Try one of the following:
– Have a discussion with someone from another culture about their cultural values
– Read a book or see a movie containing multicultural perspectives
– Listen to different types of cultural music
– Turn out all the lights in your room and try to get out of bed and get dressed
– Rent a wheelchair for the day and try to follow your regular routine
– Try a food from a different culture that you've never tasted before
Don't forget to subscribe to the Voices & Visions™ quarterly newsletter!
Sign up on our Home Page.