Finding the best Jewish quotes to exemplify the values and ideas that Judaism teaches has been a labor of love.  We are indebted to the scholars, teachers, students, parents, and professionals who have put in countless hours developing this special poster series within the Harold Grinspoon Foundation's Voices & Visions® program.  
Harold and I have learned over the years that Judaism's wisdom tradition has much to teach us with regard to building relationships and living a life filled with purpose.  These posters hopefully reinforce that premise.
.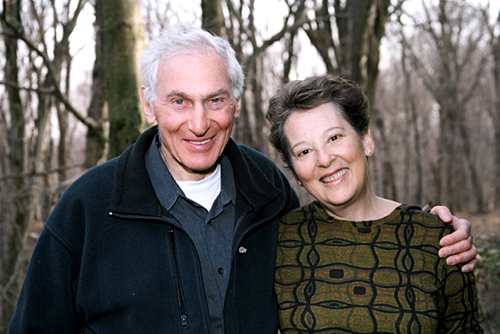 These words are the gifts the Jews have proudly given the world.  What better way to encourage you to wrestle and become more familiar with the sacred texts?  They are yours for the taking: ready-made tools for Jewish engagement!   
We are deeply aware that the Jewish future rests in your grateful hearts, inquisitive minds, and in your search for sacred moments to celebrate.  How wonderful it feels to share with you 3500 years of Jewish values, knowing you will pass them on to your children, who will pass them along to their children and untold generations of children to come.
                                                  How blessed we feel that you allow us
                                                to take this journey together.  Thank you!
                                              DIANE TRODERMAN and HAROLD GRINSPOON
with ARNOLD SCHWARTZMAN, Creative Director
ISOLDE SCHWARTZMAN, Graphic Designer
MADELINE CALABRESE, Art Director for Voices & Visions®
DAFNA SIEGMAN, Educational Consultant 
DANNY PALLER, Educational Producer
We would also like to thank and acknowledge the organizations and individuals who contributed clips and photos to the Proudly Jewish Gallery Page video:
PHOTO OF MEDICAL ASSISTANCE
Courtesy of IsraAID  www.israaid.co.il, an Israel-based humanitarian aid agency that responds to emergency crises and engages in international development 
PHOTO OF WOMEN OF THE WALL
Courtesy of photographer Bruce Shaffer www.hiddensparksphotography.com
VIDEO CLIP OF YOUNG WOMAN AND GIRL SKIPPING 
Courtesy of Shutaf  www.campshutaf.org, a Jerusalem-based inclusion program for children and teens with disabilities
VIDEO CLIP OF HAVDALAH CEREMONY 
Courtesy of American Jewish Joint Distribution Committee (JDC) www.jdc.org, the world's largest Jewish humanitarian assistance organization
PHOTO OF DESERT HIKER
Courtesy of The Nesiya Institute www.nesiya.org, an Israel-based educational program for North American and Israeli youth to explore Israel and Jewish life through community building, study, the arts, outdoor adventure and community service
Videographer: Polly Geltser