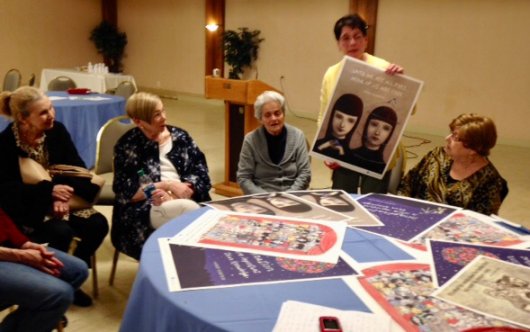 Mindy Holland, President of Congregation Gates of Heaven in Schenectady NY, writes:
"To celebrate Rosh Hodesh (the new month), 60 women from across the community and the religious spectrum mingled and talked about Jewish Art. The women each selected a Voices & Visions poster that interested them. Then they gathered with others who selected the same poster. Each small group shared their impressions of the art, which was then shared with the larger group. The art was used as a mixer and discussion starter.
The program was co-sponsored by the Schenectady Jewish Community Center, Congregation Gates of Heaven (Reform), Congregation Agudat Achim (Conservative), Congregation Beth Shalom (Conservative), and Congregation Beth Israel (Orthodox).
Each organization will re-use the posters for their own programming. Thank you for this wonderful opportunity!"