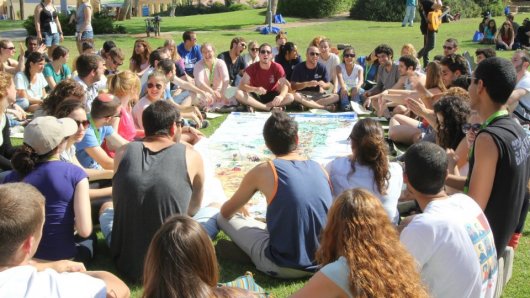 Shalom Orzach, Avi Chai Project Director and Director of Education, Shlichut and Israel Fellows Unit of the Jewish Agency for Israel (JAFI), describes how Voices & Visions was used in the annual Jewish Agency training seminar for first-time Shlichim to Jewish summer camps:
"The Jewish Agency (JAFI) organizes two week-long training seminars each April at the Shefayim Retreat Center for its Shlichim who will be working in North American Jewish summer camps – a  group of over 1000 Israelis, joined by up to 100 North American colleagues, together with over 70 camp directors and camp representatives.  The seminar equips Shlichim with skills they will need to integrate productively into camp life and deepen the connection and engagement with Israel.
In this year's training seminar we used Voices & Visions posters, commentaries and guides to help Shlichim:
- Articulate their personal narratives – Which posters speak to you, and why?  What stories about yourselves do these posters elicit?
- Imagine what sort of role models they want to be this summer – Which of the posters' values have you embodied (in the Army, in volunteer work, etc.) or would you like to embody?  Who are your heroes, your "morei derech"?
- Become familiar with North American Jewish culture – What do these quotes and images tell you about the community you will be working in?
- Broaden their understanding of Jewish education – What range of thought and belief is expressed in these posters, among these thinkers and artists?  Do you have to be observant to be a "Jewish educator"?
- Challenge themselves creatively – What poster would you make?  How would you interpret these great Jewish ideas, or what other ideas would you bring?"