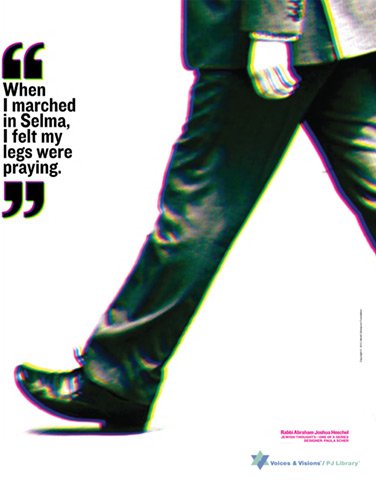 Rabbi Steven Rubenstein of Congregation Beth Ahm in West Bloomfield MI writes:
"I was really pleased with the Voices & Visions program we did.  It was among our most successful Bet Midrash programs.  I think that part of the success was due to the fact that it was very personal. 
We copied and laminated the posters and posted them in the social hall.  People had about 15 minutes to explore them and then they were able to pick up a copy of the poster that spoke to them most and bring it back to the table.  People gathered in small groups to discuss why they selected that poster, how the art work added to their understanding of the quote, etc.  Then we had about 10-15 minutes for people to then share with the entire group.  And people were able to bring home the one they liked the best.  
I'm considering purchasing the full-size set to put on poster board and to leave one out per month and to encourage people to write comments, questions, pictures, right on the poster itself as a way of continuing to share people's learning/understanding with others. 
Thanks for the opportunity."